I got a request to do a Dragon Wings and Hobby Master F-16 comparison similar to the DW vs. HM F-18 thread I created earlier. So here we go on another head-to-head assessment of the two great models.
Let's get right to it. Now the reason why I chose to do a comparison between Hobby Master vs. Dragon Wings and not Witty Wings is because the general consensus was that DW had the best F-16 model in the market before HM jumped in. Of course, this is based on the evaluation of DW vs. Witty Wing's Series 1 models (permanently extended landing gear and ordinance). When I owned their Series 1 model, I preferred DW since I felt like the shape was more accurate and it had an advantage with optional landing gear/weapons. I don't own their Series 2 model, so I can't comment too much on it, but it does look like they did improve it. Anyway, for the purposes of this review, it will be between DW and HM.
Let's have a look at what each model came with: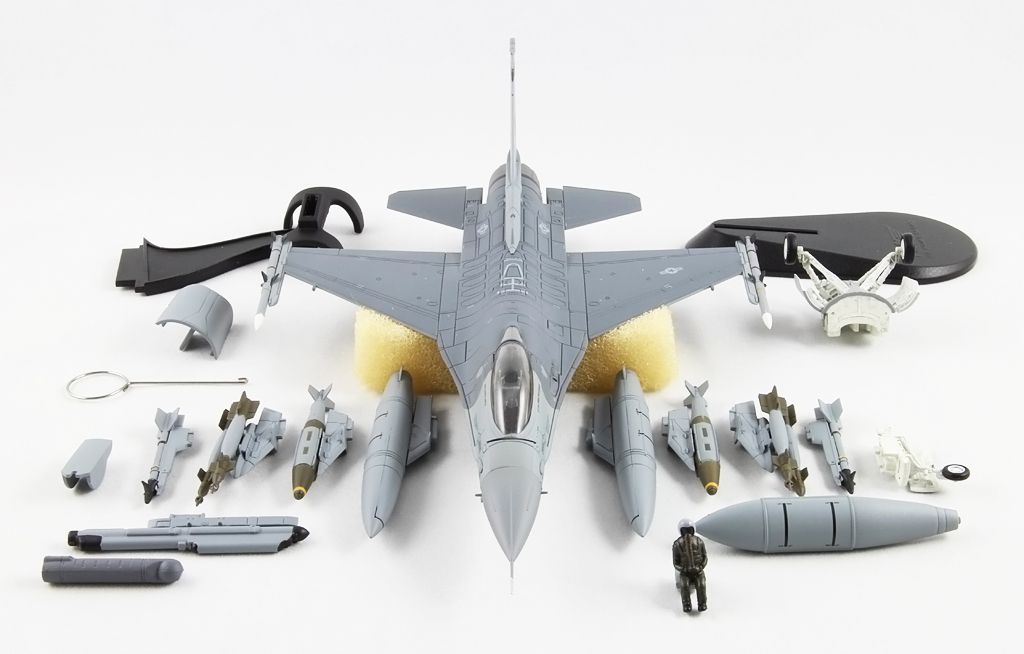 Both releases come with a good range of weapons and accessories. At least DW didn't have too much fiddy-diddy parts like their landing gear – it comes mainly assembled with the exception of the front landing gear which is in two parts.
Let's take a look of the sides: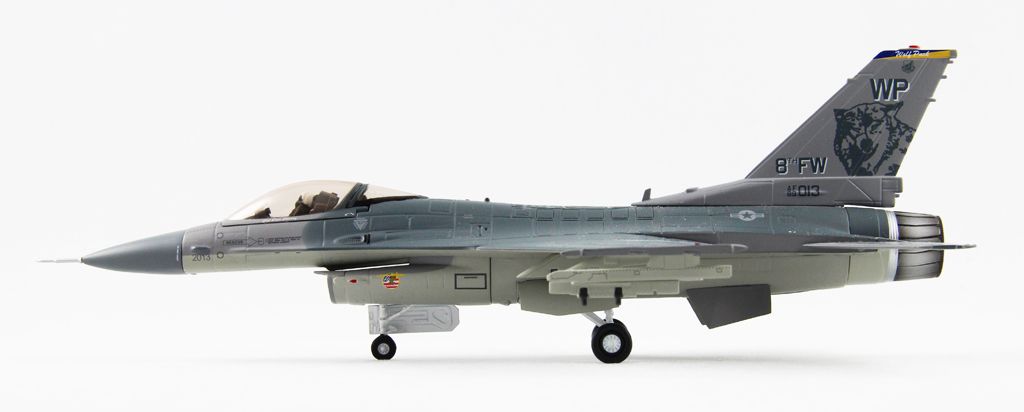 In terms of the nose/canopy shape – I say Hobby Master captured the look of the F-16. If you also look at the part where the engine meets body of the aircraft, HM's model has no gaps whereas DW does. The angle of the front landing gear is also correct on HM's version.  In addition, the rear elevators are angled down on HM model like the real F-16. DW's model is straight which is incorrect and it's extremely fragile – I've had a couple DW F-16s that came with a broken elevator (possibly because it's made of metal so it's heavier and breaks easy on contact)
The antennas are more refined on HM model, especially on the tails and wings. The nose probe is integrated into the mould whereas DW's model you have to insert the nose pitot (which is good because it can be easily replaced if broken, but I prefer HM's integrated probe so there's no gap).
Now let's take a look at the body:
The panel lines are deeper on HM models (which is something I prefer since it gives it a more detailed look). But others might prefer light panel lines to represent the real thing. If you also noticed, HM's ordinance is attached to the pylons so when it is removed, the model can have a clean-loadout whereas DW's model still has the pylons attached. However, DW does have a better gun detail which I appreciate.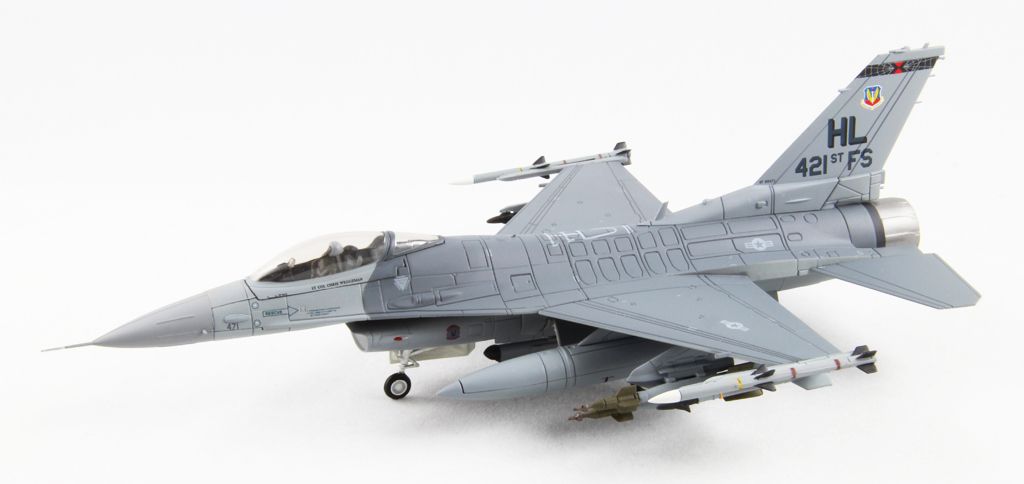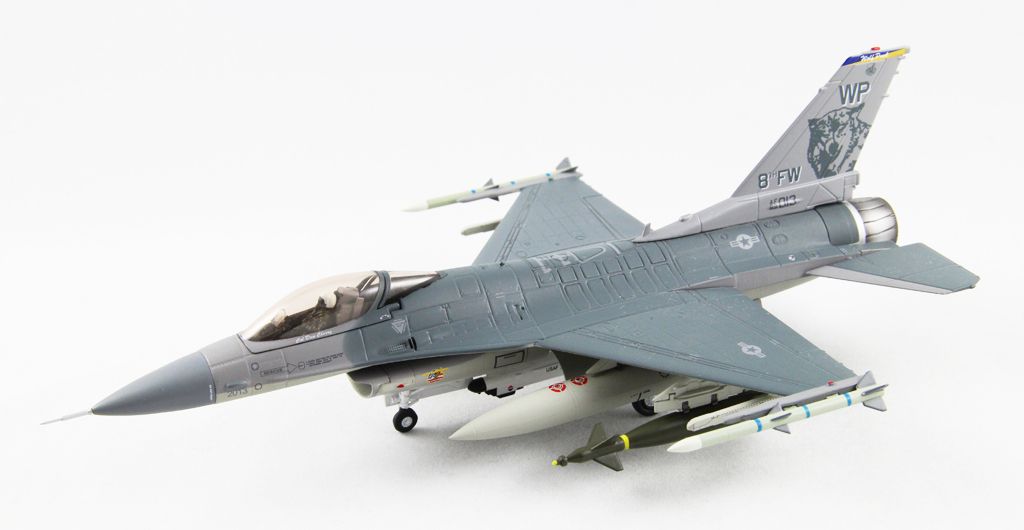 The center pod at the bottom of DW F-16 actually intrudes into the front landing gear so if this is the real thing and the door closes, it will hit the pod. The engine/nozzle detail also seems to be better on HM model.
Finally we have it inflight: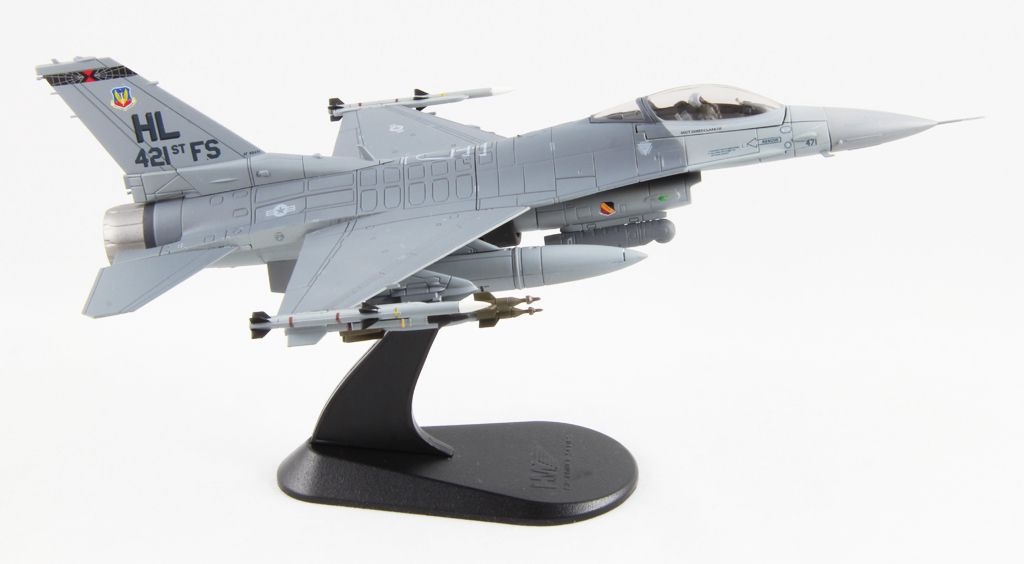 HM model comes with a targeting pod so it would be correct to load up on LGB, in this case with DW model, it would be inaccurate. However I must add that I do like DW's tinted canopy and the curvature of the lower canopy frame – looks more like the real thing. In regards to the canopy, some HM F-16 canopy is hard to open all the way since you have to lift and push forward and then pull up. But DW's canopy is not that great either since it's very flimsy.
When inflight – at least HM's model doesn't quite show a very obvious gap at the landing gear bay. DW's model has that prominent gap and the front landing gear door is a nightmare to take out if it's stuck in there.
In summary:
Hobby Master
Pros:
•    Integrated nose pitot, extra details and antennas around the aircraft
•    Includes targeting pods and accurate weapons
•    Correct front landing gear angle and rear elevators
•    Better engine/nozzle detail
•    Less gaps
Cons:
•    Canopy may be hard to open
•    Rear elevators and tail is plastic
Dragon Wings:
Pros:
•    Removable nose pitot in case of breakage
•    Tinted and lower curvature of canopy seems more accurate
•    Better pilot figure
•    Better gun detail
•    Rear elevators and tail has more metal construction
•    Optional speed brakes (open/close position)
Cons:
•    Flimsy canopy
•    No targeting pod for LGB
•    Incorrect straight angle of front landing gear and rear elevators
•    Can be very fragile: I've seen broken rear elevators, dorsal fins, pylons…etc.
NOTE: You can't accurately compare prices because DW is no longer making F-16s. The cost of production in China has risen significantly- if DW was to make it today, it would probably be $50+. Plus the paint scheme is also factors into the price so we cannot accurately compare the two.
Overall, Hobby Master won this battle and I basically sold off all my Dragon Wing and Witty Wings F-16 to make room for the better product. I applaud both companies to bringing these models to us. DW did a fantastic job for the longest time when they made their model – it's a shame they didn't make more. But it is now time for HM to step up to the throne.